Category: News
Created on Thursday, 19 December 2013 11:22
Last Updated on Thursday, 19 December 2013 11:22
Published Date
Written by Lisa Loomis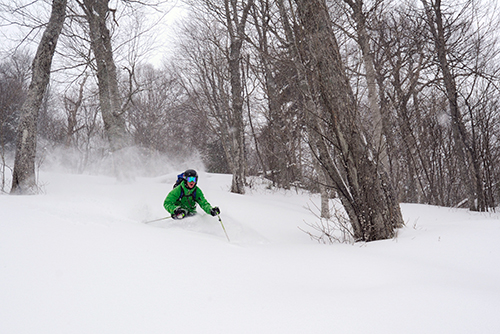 By Lisa Loomis
A long-lasting winter storm dumped between 10 and 12 inches of snow on The Valley and the mountains last weekend, leading to Mad River Glen opening for the season and not one single parking space left at Sugarbush's Lincoln Peak on Sunday, December 15.
At Mad River Glen, spokesperson Eric Friedman said that the snow was not as light as expected and the wind packed it in which was exactly what the mountain needed to open.
"It was the perfect snow for us. It was a great opening day and how often do people get to ski Mad River Glen with no bumps?" Friedman asked.
He had great praise for Mad River Glen's staffers who were able to take the resort from closed to open in one day.
Mad River opened with the Single Chair and double running and 98 percent of the mountain open. This is Mad River Glen's 65th season and the resort is holding a 65th birthday bash on Saturday, February 1, with a catered dinner, music and fireworks.
"We're kicking off our 65th season; we'll be eligible for Medicare and Social Security," Friedman joked.
The dinner will be part of a weeklong birthday celebration that begins with Roll Back the Clock Day on January 28. The celebration also includes a visit by Jeremy Davis, founder of the New England Lost Ski Area Project (nelsap.org).
At Sugarbush, parking lots overflowed as first all the parking near Clay Brook was taken, then the lower lot filled and then the lot below the snowmaking building was filled. Parking was so tight that eventually the jitneys that carry people to the base of the slopes could no longer fit between the rows! Cars were backed up down the access road, past German Flats at one point, as skiers and riders came to sample the fresh snow. The former Warren House parking lot was full and cars were parked at the Sugarbush Inn and Sugarbush Village parking lot.
"I think we were officially full," said spokesperson John Bleh.
Sugarbush is opening Mount Ellen this week on Friday, December 20. The mountain will open with top-to-bottom skiing and offer terrain for all abilities.
"With snowfall totals already over 60 inches on the season, the mountain is expected to have a large offering of natural snow trails open for the public. Snowmaking has been running on several trails over the last few weeks to compliment the natural snow. With Mt. Ellen opening, Sugarbush's total trail count is expected to rise to over 70 trails moving into the holidays," Bleh said.
This season Mt. Ellen is celebrating its 50th anniversary of being open. There will be a celebration held from Thursday, January 9, through Sunday, January 12, with numerous events paying homage to many of Mt. Ellen's time-honored customs. Events include a 1963-priced ski day, après events, vintage ski movies, races and more.
For the first time in history the big terrain park, located on the Riemergasse Trail, will be fully open for Mt. Ellen's opening day. The park was named a Top 5 East Coast Terrain Park by Transworld Snowboarding last season for its unique assortment of jib features and dedicated park staff.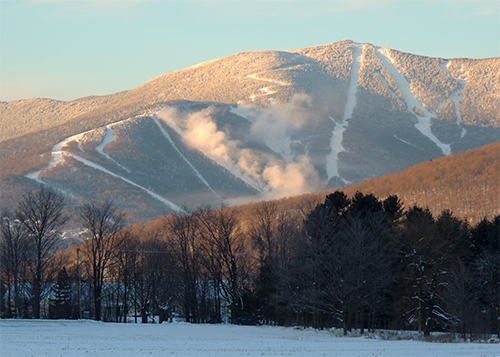 Holiday week at Sugarbush Resort and Mad River Glen offer many events
Sugarbush and Mad River Glen have full holiday calendars for the coming days.
At Sugarbush there are numerous culinary events available including a Beer Dinner with von Trapp Brewery, a family-friendly pig roast, a Timbers Wine Dinner featuring the wines of Italy, a family Italian dinner with street performers and much more.
Win Smith, president of Sugarbush Resort, will be hosting a Q&A and book signing for his new book Catching Lightning in a Bottle: How Merrill Lynch Revolutionized the Financial World on Monday, December 30.
For kids there are kids' pizza and movie nights, sunset groomer rides, holiday cookie decorating, a dog sled demonstration and a kids' cooking class among others.
Additional events include photography exhibits, art showings, wine tastings, a Birds of Prey presentation by the Vermont Institute of Natural Sciences and a 4orty Bridge Boutique trunk show. There are guided snowshoe hikes, family snowman-building contests, guided nature photography tours and much more.
Dog owners and lovers alike can partake in the fourth annual dog parade at 3:30 p.m. on Tuesday, January 31, with their K9 friend in his or her most festive costume and parade through the Gate House Courtyard. The registration fee goes towards PAWSitive Pantry, a nonprofit helping pets whose owners have fallen on hard times.
The holiday celebration caps off with fireworks and a torchlight parade at 7 p.m. followed by the annual New Year's Eve soiree featuring dinner and dancing at Timbers Restaurant starting at 9 p.m. The fun continues across the courtyard in Castlerock Pub where The Detonators will be playing through midnight as well.
A full calendar of events including times and pricing can be found at sugarbush.com.
At Mad River Glen there are naturalist programs slated every day during the holiday week with a new program offered on Saturdays at 1:30 p.m. when the staff naturalist will pose a weekly challenge question. The following Saturday, the person with the first right answer will receive a voucher for a free naturalist program. All others with the right answer will get a Mad River Glen bumper sticker.
On New Year's Eve, Mad River Glen will host a family potluck, show movies and have a bonfire. The event is geared to families. It starts at 6:30 p.m. and ends at 10:30 p.m.