Category: News
Created on Thursday, 12 December 2013 10:40
Last Updated on Thursday, 12 December 2013 10:43
Published Date
Written by VR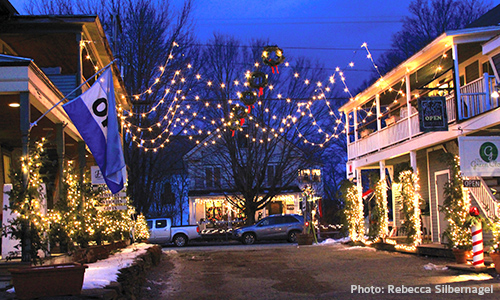 It was standing room only at Timbers this week when the winners of the Festival of the Lights contest were announced. Sugarbush hosted the Mad River Valley Chamber of Commerce's mixer on December 10.
Winners of the competition will designate the charity of their choice and Sugarbush president Win Smith will make the donation in their name after the first of the year.
The winners of the Best Decoration of a Home category went to the Smith residence on Old County Road in Waitsfield – first place; the Rewinski-Seniff home on Route 100 in Warren – second place; and the Klimek residence on East Warren Road in Waitsfield – third place.
Click image above for slideshow
East Warren Community Market took first place in the Best Decoration of a Business category: Bridget's Widgets, Waitsfield, took second; Valley Rent-All took third; Inn at the Round Barn took fourth; and Waitsfield Inn received an honorable mention.
Best Decoration of a Tree went to Bridge Street Marketplace, first place, with Moretown Library taking second in that category. Best Decoration of a Public Building saw first place going to Moretown Elementary School and second place to the General Wait House.
Best Collaborative Lighting went to historic Waitsfield Village and Most Entertaining Decoration went to Waitsfield Telecom. Best Decoration of a Window, Sign, Gazebo, Shed or Structure went to the Bridge Street alley (Sam Gulisano and Gary Eckhart); second place went to the Vermont Festival of the Arts Gallery (Karen Nevin); and third place went to Three Mountain Cafe.