Category: News
Created on Wednesday, 27 November 2013 10:07
Last Updated on Wednesday, 27 November 2013 10:13
Published Date
Written by VR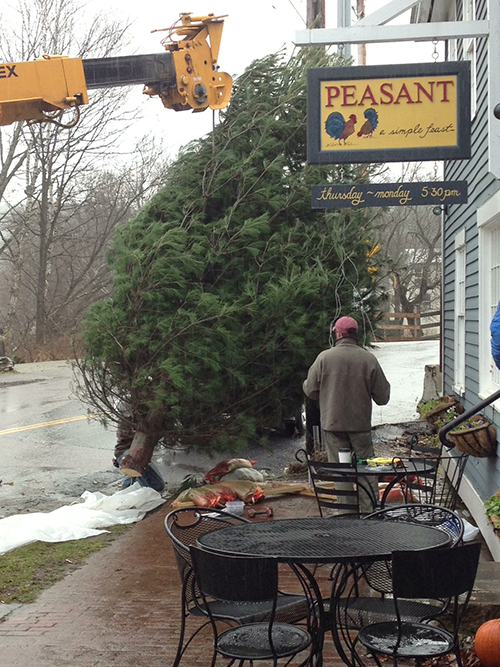 Celebrate the season in Vermont style – covered bridges, the warm glow of decorated storefronts, Santa, family and friends. The Mad River Valley aims to revive how earlier generations embraced the holiday season. The 15th annual Country Christmas Open House and Holiday Paint-In is a holiday event that turns the towns of the Mad River Valley into a winter wonderland. Named a Top 10 Winter Event by the Vermont Chamber of Commerce, the festivities take place the weekend of December 7 and 8. Shopping specials will be available both days. Family and art activities will take place on Saturday.
For 15 years MRV Chamber of Commerce has hosted Country Christmas Open House to support local shopkeepers. Participating stores and businesses offer special deals and sales, music and holiday treats. To encourage shopping, visitors can collect five punches on a punch card for a chance to win a local gift basket worth over $100. Storefronts and homes throughout the Mad River Valley will be lit up for the annual Festival of the Lights competition. Historic Waitsfield Village will be set a-twinkle when the lights are turned on at the Grand Illumination on the evening of Friday, November 29, at 5 p.m.
In 2012, the Valley Arts Foundation created the Holiday Paint-In, conceived as a winter version of the Great Vermont Plein Air Paint-Out. The Paint-In sets artists in stores and galleries throughout town to paint the holiday scene. Imagine coming upon an artist while browsing the shelves of the local pottery shop or visiting a café. The pop-up Paint-In Gallery on Bridge Street will be open both days and allows visitors to see the paintings that have been created and to purchase a uniquely Vermont gift.
In historic Waitsfield Village, the businesses of the district are planning big things, including their very own decorated "Rockefeller Center Tree," luminaries along the river, a fire pit for s'mores and roasting chestnuts, tractor hayrides, handcrafted giant snowflakes and Santa Claus. Stores will offer their own specials and have collection boxes for donations for the Mad River Valley Food Shelf. Children may join in the fun by decorating their own luminary bags at the Holiday Paint-In Gallery.
Along with great local shopping opportunities, the community has come together to celebrate the season. Waitsfield United Church will be buzzing with activity as crafters sell their handmade gifts, Merry Market tables are filled with all things gift-able and they serve their famous lunch including corn chowder, sandwiches, chili and more! Holiday music will ring out from the steeple all weekend long.
After a visit to Bridge Street, visitors are encouraged to head up the road to visit the stores and restaurants in both Mad River Green and Village Square shopping centers. Artists will be painting at Three Mountain Café and there are more shopping stops for toys and gifts. The Mad River Green will host October Siberian sled dogs. Families can come out to meet the dogs and learn more about mushing. Further down the road in Warren, there's The Warren Store. The town will be decked out in its holiday finery and is a perfect stop during the day. The Warren Store, The More Store, will be offering specials all day long.
Come visit Waitsfield and Warren the weekend of December 7 and 8 to experience a country Christmas like no other. For more information go to www.madrivervalley.com/events or call (802) 496-3409.