Category: News
Created on Thursday, 07 November 2013 12:37
Last Updated on Thursday, 07 November 2013 12:37
Published Date
Written by Lisa Loomis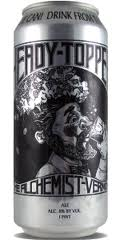 The Alchemist brewing company, creators of Heady Topper beer, sent the social media world into a frenzy with the announcement that there would be no more retail sales, factory tours and tastings at the company's factory on Crossroad Road in Waterbury.
The November 5 online announcement crashed their website's server and drew over 100 comments on their website and another 300-plus on their Facebook page.
Brewery co-owner and co-founder Jennifer Kimmich said that the decision was made based on traffic flow, parking and safety concerns. She said that while the brewery had state and local permits and was located in the light industrial zoning district, the sheer volume of people coming to visit the plant was overwhelming.
"The parking lot has often been overflowing and cars have been backed up down to Route 100. The town has tried to help us but we continue to get busier and busier. We've been trying to deal with this for the last 10 months and it's not going to work," she said.
She said that she and her husband (and business partner) John Kimmich are actively seeking a new retail location in Waterbury Village and will continue to brew the beer at their Crossroad location. They employ 25 people and produce 120 barrels of Heady Topper, along with other artisan beers, each week.
They recently announced a growler plan – and sold out of growlers in one day -- for people to come to the factory to fill their growler. That program is also suspended until they can come up with a solution.
The Kimmichs used to own and operate the Alchemist Pub on Main Street in Waterbury Village. That business and building were severely damaged during Tropical Storm Irene, leading the Kimmichs to reconstruct the building, but lease it to another restaurateur while they concentrated on their factory and their beer production.