Category: News
Created on Thursday, 29 August 2013 11:07
Last Updated on Thursday, 29 August 2013 11:26
Published Date
Written by Rachel Goff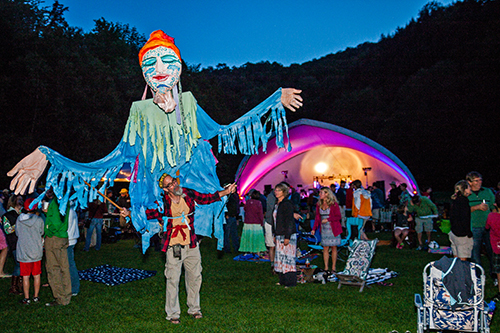 On Saturday, August 24, the Vermont Music Fest saw sunny skies and mid-70s temperatures for the fourth year in a row, and organizer Jeff Mack is thankful for the event's ongoing good weather. "Next year it can rain all it wants," he said. "I'll put up slip n' slides."
Mack estimates that 2,500 people came out to Lareau Farm in Waitsfield last weekend to listen to music by bands both local and international, including The Gulch and Afri-VT and Sierra Leone's Refugee All Stars. During the afternoon, families relaxed on the lawn with huge sticks of maple cotton candy, and at night, folks gathered around the bonfire sipping Vermont ales.
Vermont Music Fest began in 2010 as the after-party for Jeff and Kelly Mack's wedding and the event has evolved with each year due to strong local support. "Probably my favorite comment that's come in from a lot of people [about Vermont Music Fest] was, 'it's what the community needed,'" Mack said.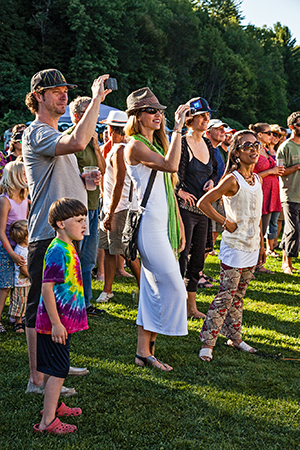 Now, in the weeks following this year's festival, "people are stepping up," Mack said, explaining that so many people have already volunteered their time and expertise for next year's event. "That's what Vermont Music Fest is," Mack said. "[I] delegate to people who get it, and it happens."
Due to the collaborative nature of the festival, "I never know what the end product is going to be," Mack said, especially since he asks artists—some of whom have performed in the festival every year since its inception—to bring something new to the event each time. Whether it be adding musicians or playing with a different band entirely, "they have to change it up," Mack said.
And it works. Big Bang Bhangra Brass Band, which features some of the state's best jazz and funk players, got tired all-day festival-goers back up on their feet and dancing in the last slot of the evening, "and their first rehearsal was the Sunday before [the show]," Mack said.
While the line-up changes each year, despite some heckling from fans and the media, the festival's seemingly generic name is not changing. Vermont Music Fest is a celebration of music in Vermont, and "I chose Vermont Music Fest because it can go anywhere in Vermont," Mack said.