Category: News
Created on Thursday, 06 June 2013 11:58
Last Updated on Thursday, 06 June 2013 11:58
Published Date
Written by Rachel Goff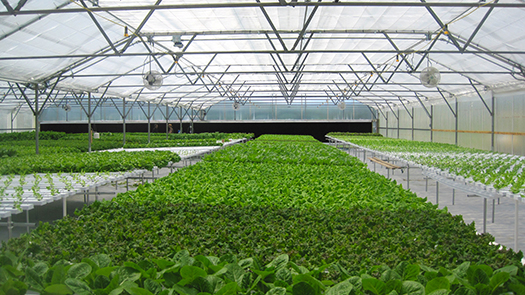 "We've never seen anything grow so fast," farmer Dave Hartshorn said of the lettuce in his hydroponic greenhouse.
Hartshorn partnered with John and Ted Farr to start Green Mountain Harvest last spring and the trio hosted its first open house on Sunday, June 2, at their location on Hartshorn's certified organic farm in Waitsfield.
At the open house, members of the public were invited out of the 90-degree heat and into the greenhouse—kept at a relatively cool 75 degrees—to learn about hydroponics, a method of growing plants that uses nutrient solutions in water instead of soil.
Hydroponics has been around for centuries, but the growing method has progressed rapidly in the past decade with the use of computer technology to create the optimal growing conditions for plants within a closed system, or greenhouse. As a result, Green Mountain Harvest's greenhouse covers only a quarter of an acre, but it will produce 360,000 heads of lettuce in one year.
"We don't waste anything," Hartshorn said of his hydroponic system, which uses one-tenth the amount of water used in traditional agriculture. Plants grown hydroponically are less vulnerable to death due to pests and frosts, and they are ready for harvest weeks earlier than those grown in fields.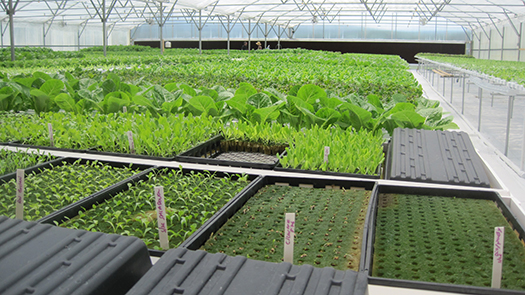 At the open house, Hartshorn also emphasized the food security aspect of hydroponic systems, which protect against increasingly erratic weather associated with climate change. Currently, Green Mountain Harvest's greenhouse is powered by propane, but the partners are looking into developing solar and biomass facilities to meet their future energy needs.
Right now, Green Mountain Harvest grows lettuce, kale, basil and cilantro, but it plans to expand from its two greenhouse bays to 16, where it will grow peppers, cucumbers, strawberries, melons and more. Green Mountain Harvest produce is for sale at local stores such as Sweet Pea Natural Market and Bridge Street Butchery, and it's used in local restaurants such as The Common Man and The Inn at Round Barn Farm.
Green Mountain Harvest is currently working with Black River Produce to expand its distribution, especially to restaurants. Because hydroponic produce is grown without soil or chemicals, it doesn't need to be washed, Hartshorn's wife, Amy Todisco, explained at the open house. "It's such a benefit for chefs," she said, "and for us." Those who attended the open house left with a free head of Green Mountain Harvest lettuce. "If you like what you are tasting, please ask for it in local stores!" Todisco told future customers.
In addition to Green Mountain Harvest, Hartshorn also continues to own and operate his organic vegetable farm and farm stand in Waitsfield, just south of the new greenhouses.