Category: News
Created on Thursday, 04 April 2013 10:03
Last Updated on Thursday, 04 April 2013 14:00
Published Date
Written by Rachel Goff
Vermont maple syrup has made a name for itself across the country, but for many in the state, it's not an industry but a hobby—born out of backyards and rarely extending beyond the realm of family and friends.
The Village Grocery's annual maple syrup tasting contest, which took place last Friday, March 29, gave those hobbyists the chance to share their syrup with the community.
"These are the guys out in their backyards with lasagna pans," The Village Grocery owner Troy Kingsbury said, highlighting the difference between large- and small-scale sugaring operations. "This is old school."
Customers who came into The Village Grocery last Friday tasted five different varieties of syrup—four local, one Log Cabin—and voted for their favorite. At the end of the day, Trevor Hallam of Fayston, who entered the contest with his friend Siemen Smidt, beat two-time winner Mike Quenneville of Fayston by two votes.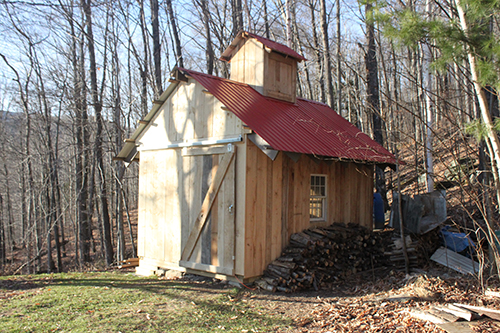 Hallam is currently a junior at Harwood Union High School, and he's been making maple syrup since he was in fifth grade. To start out, "I just did a lot of research," Hallam said. "I had 10 taps."
It wasn't until last year that Hallam and his dad built a sugarhouse in their yard. Now, Hallam has 60 taps, and he's made about 8.5 gallons of syrup so far this year under the name Mansfield Sugaring. "I give it away to family and friends mostly," he said, "and I keep a bunch for my family to have throughout the year."
The syrup Hallam submitted to The Village Grocery's contest "is some of my better stuff," Hallam said, "but I've been making probably even better than that over the last couple of days."
Hallam hopes to expand his setup to 150 taps next year. If he does, he'll still fall under the 200-tap limit to enter The Village Grocery's contest for sugaring operations that are small but sweet.
As the winner of this year's contest Hallam won a $100 gift certificate to The Village Grocery.