Category: News
Created on Thursday, 15 November 2012 11:08
Last Updated on Thursday, 15 November 2012 11:08
Published Date
Written by VR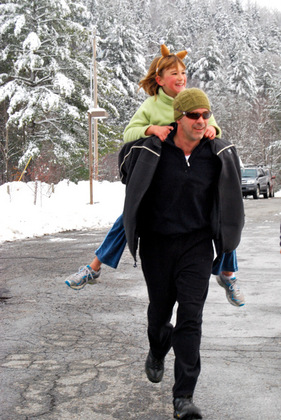 Fact: The more you exercise on Thanksgiving morning, the better you'll feel about eating your body weight in turkey and mashed potatoes later that day.
So, this Thanksgiving, Thursday, November 22, Warren Elementary School is hosting the second annual Mad River Valley Turkey Trot. The race starts at 10 a.m. at the school and runners will travel 2.8 miles through historic Warren Village before making their way back to the school.
Last year, 125 runners participated in the event, raising $1,000 for the Warren Elementary School PTO. "It was a big success," Anna Mays, one of the event organizers, said. Race volunteers wore turkey legs on their heads, race winners received apple pies donated by the East Warren Community Market and everyone returned home with healthy appetites. 
New this year, the first 125 people who register for the race will also receive a free T-shirt and goodie bag. The Turkey Trot is open to all ages. Runners can pre-register online at mrvturkeytrot.eventbrite.com or register in-person the day of the race, between 9 and 9:30 a.m. For more information, call Laurie Jones at 496-2487 or email This email address is being protected from spambots. You need JavaScript enabled to view it..