Category: News
Created on Thursday, 02 August 2012 11:41
Last Updated on Thursday, 30 August 2012 16:43
Published Date
Written by VR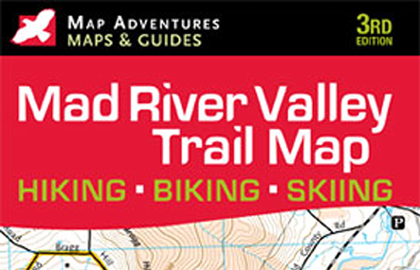 "I've been exploring the trails in the Mad River Valley since the early 1980s," Steve Bushey said. Now, he makes his living helping others explore the area.
Bushey and his wife Angela Feath are the couple behind the cartography company Map Adventures Outdoor Maps & Guides, which recently released a third-edition map of the Mad River Valley's extensive trail network.
The updated map includes previously uncharted mountain biking trails as well as hiking available at ski resorts and many new walking trails—because "you don't have to be hard and gnarly to enjoy nature," Feath said.
While Map Adventures is currently based out of Peaks Island, off the coast of Portland, Maine, Bushey and Feath have been very hands-on in their mapmaking approach. "We like to get outside; there's no doubt about it," Bushey said. Over the years, "I think I've hiked or skied almost all of these trails [included on the new Mad River Valley map]," he said.
"And I've been known to fulfill a map order for a store while walking on a trail," Feath added.
Born in Vermont, Bushey was the driving force behind not only the mapping but the foundation of the Catamount Trail, a cross-country ski trail that runs the length of the state, and Feath herself lived in Vermont for 30 years.
Thus, even though they've since relocated to Maine and created maps of hiking trails all over New England, the couple maintains an intense appreciation for the Green Mountain State—and for the Mad River Valley in particular.
This is because, over the years, Bushey has noticed that "people in The Valley have made a great effort to preserve the landscape and natural beauty," he said, and he's happy to see that the area hasn't been "overdeveloped," like so many others.
With this effort comes "a real persistence and long-term vision to create a stronger trail network," Bushey said of his work with the Mad River Valley Trails Collaborative on the new map.
There's certainly "a real synergy and energy" between the various trail organizations in the region, Feath said, which is important because "you can have great areas to walk, but if you don't have permission to go on them and have people maintaining them, then it's all for nothing."
The Third-Edition Mad River Valley Trail Map is available at the Mad River Valley Visitor Center, the Mad River Path Association office, and at various other retailers in The Valley. It's also available online at mapadventures.com.