Category: News
Created on Thursday, 31 July 2014 11:09
Last Updated on Thursday, 31 July 2014 11:09
Published Date
Written by VR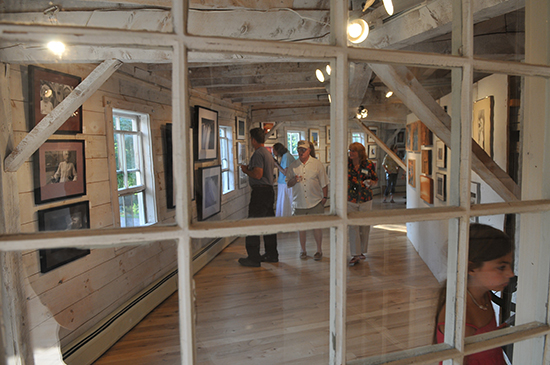 The Photo Show in the Round Barn is celebrating its 25th year this summer. The Photo Show was started in 1989 by Pat Dockendorf, a photographer, and Pam Lerner who at the time was a member of the Green Mountain Cultural Center (GMCC) board of directors and the artistic director of the fall juried Art Show in the Round Barn. At that time, photographers were not invited to submit entries for jurying, but photographers who saw their work as very much an art form, felt they deserved a show of their own and so began the photography show also under the auspices of the GMCC.
The Photo Show is not juried and Lerner recalls the somewhat circus-like atmosphere at the first call for entries when she and Dockendorf had absolutely no idea what to expect. "That is a far cry from what we see today. The quality of the show has grown over the years, although not without some controversy. During the past 25 years digital photography has certainly come into its own with its remarkable quality and artistry. It has also opened up the field of photography to ever increasing numbers," Lerner said. She remembered some years ago when digital photography was definitely taking hold, somewhat to the disdain of the film photographers whose purist ideals had to confront the upstart digital invasion. She said she sometimes felt like a UN ambassador trying to keep the peace.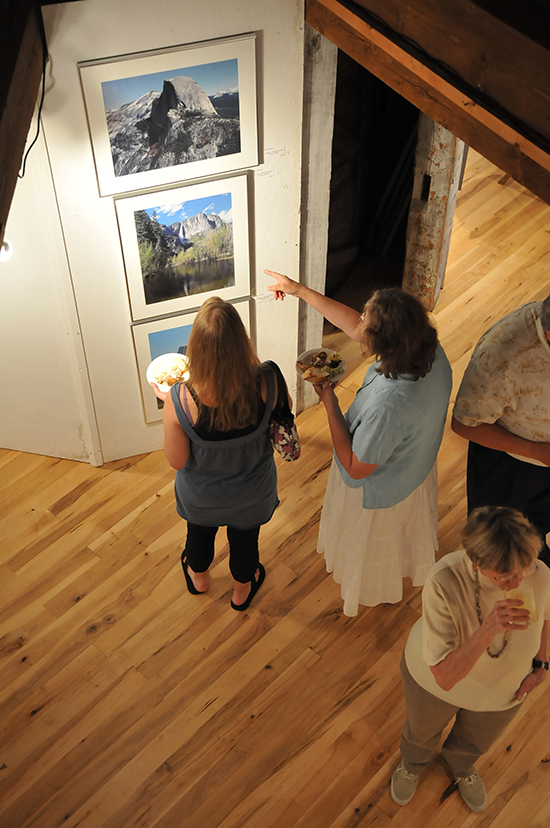 This year's show has a wide variety of subject matter and print mediums. In addition to prints on paper, people will see images printed on canvas, silk and metal. For those admirers of Ansel Adams, there are several beautiful black-and-white landscapes. As for subjects, people will see a pair of photographs that could easily be mistaken for 18th-century paintings. There are abstract works as well as works of humor and whimsy. A polar bear cub frolicking in the snow like a lamb in a spring meadow or the carrot ladies somewhat impatiently in waiting. For nature lovers there are frogs, bugs, butterflies and a young lady's first encounter with a worm.
Opening Reception
To help celebrate the show's 25th anniversary, two staff members of Vermont Public Television will be the guest speakers at the opening reception. Keith Swan joined Vermont Public Television eight years ago as a producer/director. His many roles include producing promotions and short-form projects for Out and About, Outdoor Journal and Making Sense New England.
Swan is a native of Colorado, but he spent his growing up years in Los Angeles. He attended the UCLA MFA Film and Television Program, graduating in 1979. He took a job as the operations manager on various sitcoms. He then moved to NBC-Burbank to supervise the facilities for local news. After 10 years, including a year for international travel, he settled in Boston where he was involved in production at two Boston area television stations. He also began teaching video production at Northeast Broadcasting School. He was a frequent visitor to Vermont and he decided to stay, eventually ending up with Vermont Public Television.
Jim Ray will accompany Swan for the presentation. Ray, a videographer and photographer, has 30 years' experience in the video profession from agency-led commercial productions to local documentaries. He has worked with high-end broadcast gear and the latest video-enabled DLSRs. He combines his passion for beautiful images with storytelling using the newest technology. He is the lead videographer for VPT and is currently shooting a documentary on the history of UVM hockey.
Swan and Ray will be sharing what they look for when they select images for the station's beauty shots, or as they are referred to in the business – "bumpers." These are the short video clips people see, often at the top of the hour or between shows in lieu of ad-filled station breaks. Ray, when he is out on assignment, is always looking out for possible scenes for the beauty shots. They also may speak on how they generate story ideas and carry them through to broadcast, as well as show some of their latest equipment.
The Photo Show in the Round Barn opened to the public on Monday, July 28, and runs through Monday, September 1. The opening reception is on Wednesday, August 6, at 5:30 p.m. and is open to the public.