Category: News
Created on Thursday, 31 July 2014 11:00
Last Updated on Thursday, 31 July 2014 11:00
Published Date
Written by Lisa Loomis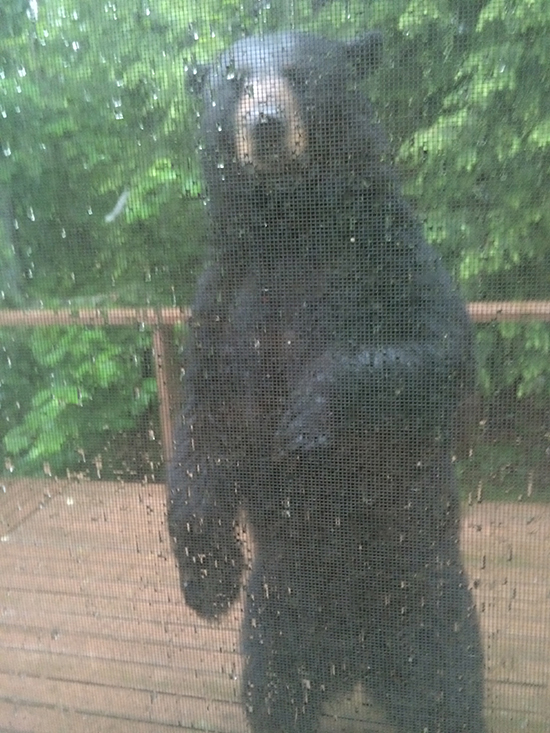 By Lisa Loomis
Given the current intense local interest in The Valley and the state's bear population, The Valley Reporter reached out to Forrest Hammond who is the black bear project leader for Vermont Fish and Wildlife.
Hammond dismissed the notion that there had been a huge surge in the bear population. He said that the state regulates the size of the bear population with the intention of stabilizing it. The state regulates the population by extending or limiting bear hunting season.
He said that due to a law that went into effect last year people cannot kill a bear unless they have tried deterrence measures first.
It's illegal to feed a bear and you can't kill a bear unless you have tried deterrence such as electric fencing around bee hives and chickens. In years past some of the bears would have just been shot and the problem would have stopped. Now some bears are causing multiple problems – it's the same bear causing many problems," Hammond said.
"What we're trying to do, especially when a bear is not causing extensive damage, is to leave it in place and work with the public to clean up the attractant. We're trying to get people to adjust and live with bears and make sure they don't make their garbage or compost or chickens attractive to bears," he explained.
"We're trying to be more sensitive to the needs of the bears and won't take the lethal step right off. Fewer bears were been killed in conflict situations last year than the year before," he noted.
Hammond said that bears are omnivores and will eat roadkill and carrion although they prefer meat that is not spoiled. Asked if bears can contract rabies, he said that they can, but it is very rare and he'd never heard of it in Vermont. To get rabies, they would have to come in contact with a rabid animal, like a raccoon.
"Bears can go after livestock, although usually only a larger bear will do that. That is usually a death knell for the bear and a concentrated effort will be made to kill that animal. There is one in Rochester that took a couple of calves. We've been trying to find that bear," he said.
Waitsfield farmer Hadley Gaylord said that he suspected but had no proof that it was a bear that took an 80-pound calf that could not walk very well. He said that had a coyote or some other animal taken the calf, he would have expected to find bones and pieces of the animal, but he said it was simply gone.
"A bigger problem is bears going after chickens and chicken feed. With more people raising chickens it's a bigger problem. We used to kill those bears right off, but now we're treating bears and chickens the way we treat bears and hives and we're asking people to try electric fencing around their chickens," Hammond explained.
When game wardens kill a bear they work with local folks to make sure the meat gets used.