Category: Local Info
Created on Thursday, 09 August 2012 10:36
Last Updated on Thursday, 09 August 2012 11:48
Published Date
Written by Rachel Goff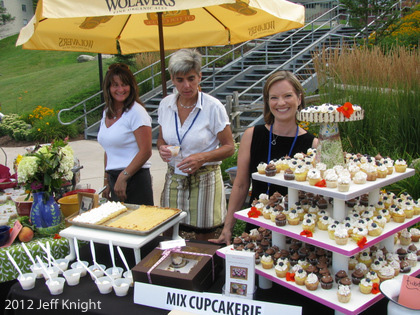 Last Monday, August 6, was one of those rare occasions when it's perfectly acceptable to fill up on appetizers, as restaurants and food vendors participating in the Vermont Arts Festival's Taste of the Valley event served up small, hors d'oeuvres-like samples of signature dishes at Sugarbush's Lincoln Peak.
At Taste of the Valley, one lap around the tables equaled dinner, two laps equaled dessert, and all attempts at vegetarianism were best temporarily suspended in order to partake in this year's unofficial theme: pork.
In addition to Gaylord Farm's regular pig roast station, many other vendors also featured dishes containing pork, including wonderfully juicy maple pulled pork sandwiches from both The Pitcher Inn and Akes' Den & Restaurant and Korean pork sliders from Hostel Tevere.
Who knew Hostel Tevere even served meals? Or that the East Warren Community Market has ready-made meals for sale on certain nights?
Click the image below to open lightbox slideshow.
While Taste of the Valley showcases the talents of already acclaimed local restaurants such as American Flatbread and The Common Man, perhaps more importantly it informs townspeople of other eating opportunities they would otherwise have heard nothing about. For example, does everyone know that in addition to its famously hearty bread loaves, Red Hen Baking Co. also makes a tasty chilled apple-beet soup?
And one can never forget about dessert, especially with Taste of the Valley featuring almost as many sweet vendors as savory ones. Serving out of the newly opened Sweet Spot, Scout's Honor's double-layered maple-coffee ice cream cake was particularly delicious, as were the truffles from Quayl's Chocolates.
While this year's Taste of the Valley event has now passed, keep tasting in The Valley year-round and head for some outside recreation to work off all those fine, fine calories.